This week on THE SKINNY CONFIDENTIAL HIM & HER PODCAST…
( 0:55 ): Welcome back to TSC HIM & HER Show. #539: Today we're sitting down with New York Times bestselling author Steven Pressfield, who's written multiple books including The War of Art, Turning Pro, Do The Work, and most recently released his memoir, GVT CHEESE. Today he's telling us his story from starting out as a writer, broke & living in a house with no electricity, to becoming one of the most prolific writers of our time. He dives into how to make it as a writer or creator in general, the top qualities of somebody who's successful, and he lays out all the reasons why we as humans are always in our own way & how to get out of those habits that keep us from success.
DISCUSSION QUESTIONS WITH
( 4:23 ): Lauryn asks, "What can someone do who is resistant and procrastinating when it comes to creativity and work?"
( 6:08 ): Lauryn asks, "When did you start to realize that was the trick?"
( 7:49 ): Michael asks, "How do you push through and persevere that kind of disappointment?"
( 8:23 ): Lauryn asks, "What do you think about people procrastinating in 2023 with social media?"
( 18:23 ): Lauryn asks, "What are some tips and tricks that you do when it comes to self doubt?"
( 19:51 ): Michael asks, "The theme of resistance—how did you come to contemplate that that was the thing that was holding us back from hopes, dreams, aspirations?"
( 35:03 ): Lauryn asks, "What were you resisting with this book? Because this is a little different than your other books so I'm sure you were resisting the big 'R.'"
( 36:45 ): Lauryn asks, "After you got started were you resistant within the process?"
( 37:26 ): Lauryn says, "I would like to know just selfishly what your process is when you write a book."
( 42:02 ): Michael asks, "What's harder to write-fiction or nonfiction?"
( 44:44 ): Lauryn asks, "If our audience is listening, and they sort of don't know where to start, out of all your books , what is a book that you think would be most beneficial?"
( 46:21 ): Lauryn asks, "What's another story in your new book government cheese that you can point to that sort of shows the struggle?"
( 47:45 ): Lauryn asks, "What do you do when people come to you, out of all people, with excuses?"
( 49:17 ): Lauryn says, "I want you to talk to us about the hero's journey."
( 56:00 ): Michael asks, "So for people that are starting out and they don't really know what their passion is or their purpose and they haven't found that thing that gives them their spark in life, is that a book or a piece of work that they start with?"
( 59:57 ): Lauryn asks, "Who are some people you can point to that have really fought the resistance and succeeded?"
( 1:02:35 ): Lauryn asks, "What are some roadblocks you see and observe for our generation?"
( 1:09:28 ): Lauryn says, "I would love to know some daily practices that are micro that you do."
( 1:10:30 ): Michael asks, "What are some of your favorites right now off the top of your head?"
( 1:11:35 ): Lauryn asks, "How do you set your day up with little, tiny habits?"
( 1:13:47 ): Michael asks, "Are there specific authors or works that you lean into at this point in your career?"
♡ | ♡ | ♡ | ♡ | ♡
FOR A CHANCE TO WIN TSC GOODIES
Comment your favorite part of the episode on my latest IG.
If you rate the podcast & send a screenshot of your review to [email protected] you'll get my 5 secret beauty tips!
Are you interested in receiving a quick email from me? Sign up for Tipsy Thursday to get my favorite tips, tricks and more straight to your inbox.
If you have a question for us or want to request a guest, comment on our Instagrams ( @theskinnyconfidential & @michaelbosstick )  or ask us in TSC Him & Her Podcast Facebook group. Thank you for your attention and support!
x
Lauryn & Michael
+  find more : Instagram | youtube | podcast
GET THE EDIT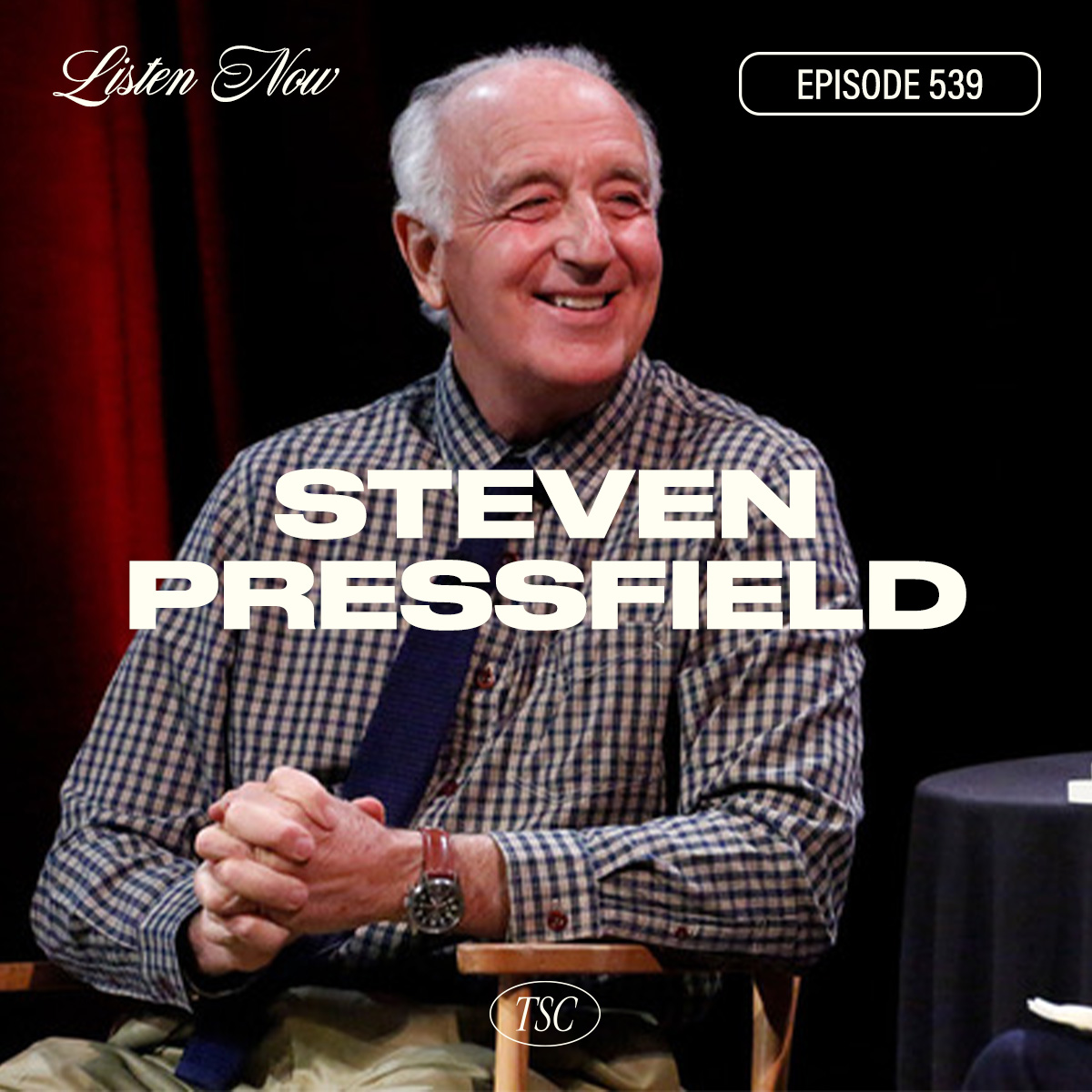 Steven Pressfield