This week on THE SKINNY CONFIDENTIAL HIM & HER PODCAST…
( 1:30 ): Welcome back to TSC Him & Her Show. Today we are joined by celebrity nutritionist, Kelly Leveque, Be Well By Kelly. Listen to part one: episode 67 to get caught up. We discuss cortisol, the myth behind juice cleanses, diet procrastination and much more.
( 3:00 ): While in LA I tried a new facial at Glow Skincare by Kasey. It was sea urchin and coral ground up to create a peel. Michael is trying to learn the harmonica while working on a fun podcast project that we'll announce soon.
HIM & HER TIPS OF THE WEEK
( 7:15 ): HIM TIP: Think in 7 year and 1-2 month windows. This allows you to have micro goals and long-term goals that tend to be more effective. 
( 9:30 ): HER TIP: Facial Steamer. We've talked about it before but it's that much of a game-changer. It hydrates and purifies the skin in one simple step for a dewy complexion. 
( 15:25 ): Kelly Leveque is an LA-based celebrity chef, author and nutritionist. Her latest book called Body Love even includes a forward from Jessica Alba. She believes in real food, real ingredients and a clean diet. Let's welcome Kelly.
DISCUSSION QUESTIONS WITH KELLY
( 16:25 ): Lauryn asks: "Let's set this up as a coaching session for a girl named Jenna. She eats McDonalds, works a 9-5, knows nothing about nutrition and is partying. How do we begin?"
( 18:30): Lauryn asks: "If you need 30 minutes of movement can that mean walking on the treadmill answering emails?"
( 19:20 ): Lauryn asks: "What is in the Fab Four Smoothie?"
( 23:45 ): Michael asks: "Why do you suggest working out on an empty stomach in the morning?"
( 25:30 ): Lauryn asks: "Do you like green juices and juice cleanses?"
( 29:25 ): Lauryn asks: "What is akasha fiber?"
( 31:20 ): Michael asks: "What is the next third of Jenna's day after her morning workout & smoothie?"
( 33:40 ): Lauryn asks: "What do you get when you're on the go?"
( 39:10 ): Lauryn asks: "What does Jenna do when she starts getting hungry at noon and she's hungover?"
( 41:50 ): Lauryn asks: "How much water is Jenna drinking?"
( 43:55 ): Lauryn asks: "What's next for Jenna's dinner?"
( 46:55 ): Michael asks: "When do you wake up and what do you suggest for clients?"
( 48:45 ): Michael asks: "Let's talk about night owls."
( 52:45 ): Lauryn asks: "What advice do you have for people using Adderall for weight loss?"
( 1:01:10 ): Lauryn asks: "Let's talk about vitamins, coffee and alcohol."
( 1:04:30 ): Lauryn asks: "Coffee. When should you drink it and how much?"
( 1:05:20 ): Lauryn asks: "Jenna likes wine. What does she do?"
KELLY'S SUGGESTIONS
+ Mag-07
 + Dry Farm Wines
+  Siete Chips
+ Angelisco Tequila
+ Secco Wine Club
+ Rhodiola
+ Ashwagandha
+ Chlorophyll water
+ Date ketchup
+ Ritual vitamins
+ Metabolic synergy

If you rate the podcast & send a screenshot of your review to asklaur[email protected] you'll get my 5 secret beauty tips!
If you have a question for us or want to request a guest, comment on our Instagrams ( @theskinnyconfidential & @michaelbosstick )  or ask us in TSC Him & Her Podcast Facebook group. Thank you for your attention and support!
+ find more Kelly: Body Love Book | Website | Instagram| Episode 67
++ this episode is brought to you by Zola. For a seamless wedding experience go to Zola.com/skinny and receive $50 towards your registry. 
+++ enjoy this episode? check out Melissa Wood, Tanya Zuckerbrot and Kim Kelly Fit.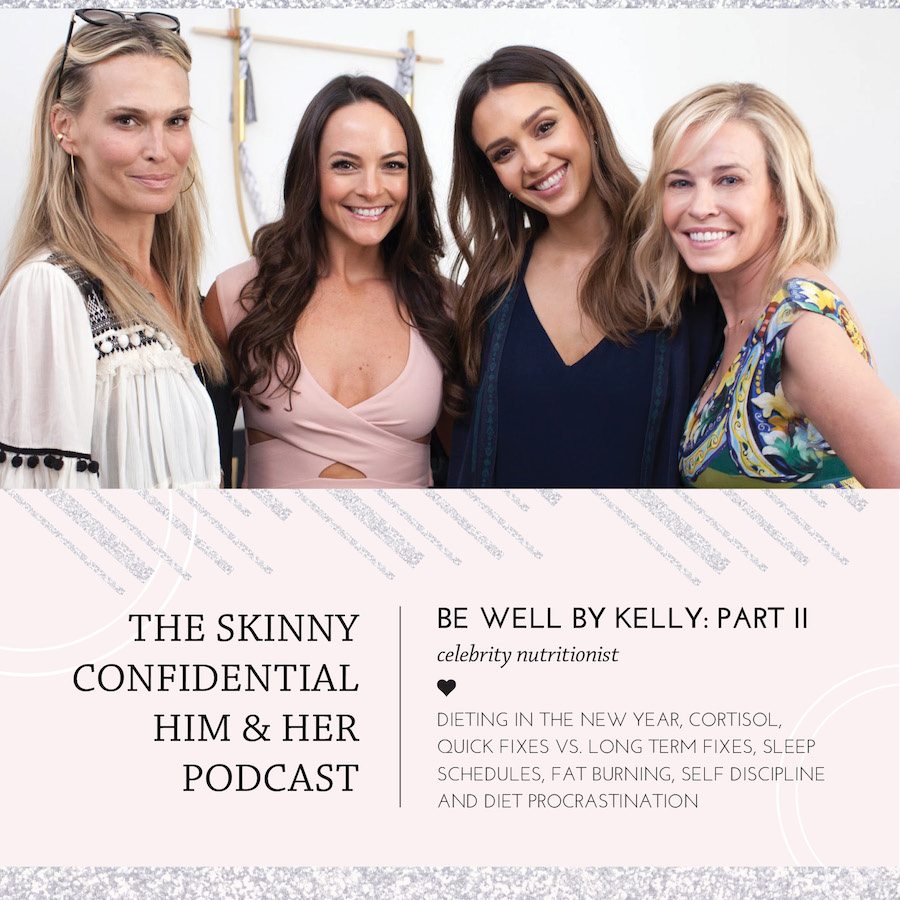 #98: BE WELL BY KELLY