This week on THE SKINNY CONFIDENTIAL HIM & HER PODCAST...
( 1:15 ): Welcome to TSC Him & Her Show. Today we have Dr. Mona Vand, the modern pharmacist. We're covering stress, plant-based diets, skincare routines and more. The Him & Her Show is hosted by myself & my husband, Michael Bosstick.
( 3:00 ): During the holidays we took a digital detox. We stayed in bed and had a Wes Anderson movie marathon. We watched The Royal Tenenbaums, Grand Budapest Hotel and The Life Aquatic with Steve Zissou.
HIM & HER TIPS OF THE WEEK
( 6:15 ): HER TIP: Utilize scents to set the scene & lift your moon – use essential oils, winter spice potpourri & eucalyptus.
( 10:20 ): HIM TIP: Launch fast and adapt quickly. Stop waiting for perfection, it's never coming & it doesn't exist. Work towards constant improvement and progression. 
( 13:00 ) Dr. Mona Vand understands wellness at a chemical level. Most pharmacists believe in filling prescriptions and she believes in a healthy lifestyle first.  She teaches her methods to over 100,000 people daily sharing her wellness and beauty tips.
DISCUSSION QUESTIONS WITH DR. MONA
( 13:50 ): Lauryn asks: "You're very disciplined and creative when it comes to food. Have you always been like this?"

( 14:40 ): Lauryn asks: "Talk to us about pharmacy school."
( 16:45 ): Lauryn asks: "How did you transition from being in the pharmacy to what you are doing now?"
( 20:00 ): Lauryn asks: "How did you get into a plant-based diet?"
( 21:00 ): Michael asks: "How did you find balance and value with therapy?"
( 25:40 ): Lauryn asks: "Now that you're doing what you want how is your life different?"
( 27:25 ): Lauryn asks: "What are a couple of tips you have for self-care?"
( 32:15 ): Lauryn asks: "What are the benefits of cacao?"
( 33:35 ): Lauryn asks: "Do you have any snack tricks?" 
( 36:05 ): Lauryn asks: "People are scared of sugar. What are your thoughts?"
( 37:20 ): Lauryn asks: "Can you breakdown food combining?"
( 38:50 ): Michael asks: "What are the biggest misconceptions you see in people's diets?"
( 49:50 ): Lauryn asks: "What are the details of your daily routine?"
( 42:30 ): Lauryn asks: "Is there anything you do at night that you find helpful?"
( 46:10 ): Lauryn asks: "What is your skin care routine?"
( 55:35 ): Lauryn asks: "What do you suggest for hyper pigmentation?"
( 57:45 ): Michael asks: "Is there something unconventional you do that has brought you success?"
( 1:01:10 ): Michael asks: "Was there something that happened that caused these major shifts in your life?"
( 1:02:50 ): Lauryn asks: "If someone wants to get on a healthy track like you what are some tips you have for starting?"
We really enjoyed chatting with Dr. Mona and hope you guys learned a lot too! If you're ready for more we shared our favorite skincare tips on her Youtube channel.
If you rate the podcast & send a screenshot of your review to asklaur[email protected] you'll get my 5 secret beauty tips!
If you have a question for us or want to request a guest, comment on our Instagrams ( @theskinnyconfidential & @michaelbosstick )  or ask us in TSC Him & Her Podcast Facebook group. Thank you for your attention and support!
+ find more Dr. Mona: Instagram | Website | Youtube
++ mentioned: Young Living | K Pure | Sulwhasoo | Sk-II 
+++ related episodes: Kelly Be Well | Dr. Dennis Gross | Kim Kelly | Tanya F-Factor
++ This episode is brought to you by TSC Bombshell Body Guide. Use code HIMANDHER at checkout for 20% off. It includes 27 minute workouts, a community to connect with and my go-to meals.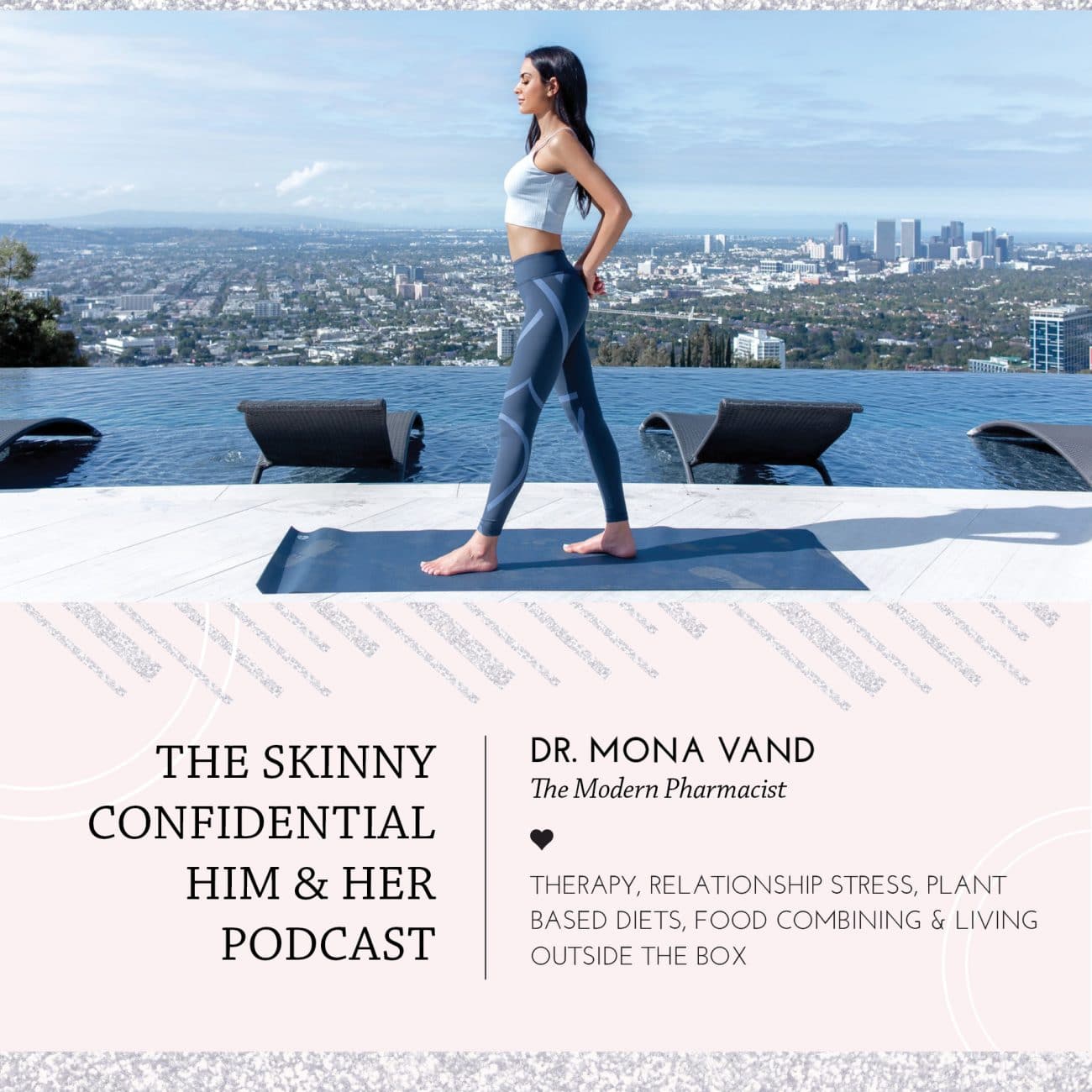 #94: DR. MONA VAND