This week on THE SKINNY CONFIDENTIAL HIM & HER PODCAST...
( 1:30 ): Welcome to TSC Him & Her Show hosted by myself & my husband, Michael Bosstick. We're interviewing Dr. Dennis Gross. We're discussing skincare routines, botox, filler, preventing aging and the biggest mistake people make in their skincare routine.
( 3:00 ): We're in Aspen right now skiing and working. Expect a blog post on how to travel and maintain your productivity.
HIM & HER TIPS OF THE WEEK
( 7:15 ): HIM TIP: Dr Dennis Gross Vitamin C collagen eye cream & how to convince your man to take care of his skin. 
( 8:50 ): HER TIP: Peel Pads. They help with hyper pigmentation and tighten the skin. 
( 11:30 ) Dr. Dennis Gross is one of the top skincare doctors in the world. Brown spots, wrinkles, acne, the works. He's a board certified dermatologist and surgeon on 5th Ave. in New York. He utilizes state of the art technology in order to prevent, correct and protect patient's skin by creating a specialized plan for each client.
DISCUSSION QUESTIONS WITH DR. DENNIS GROSS
( 13:10 ): Lauryn asks: "Introduce yourself & tell us about your brand."

( 14:35 ): Lauryn asks: "What are the hero ingredients?"
( 17:20 ): Lauryn asks: "What is your recommendation when you're hungover?"
( 19:15 ): Michael asks: "How did you get into skincare?"
( 22:10 ): Lauryn asks: "What are you doing on a day-to-day basis in the office?"
( 26:15 ): Lauryn asks: "What should we use on a sun mustache?" 
( 27:50 ): Michael asks: "What would you tell someone who's just starting to pay attention to their skin regime?"
( 30:45 ): Michael asks: "What do you suggest to reverse skin damage?"
( 34:05 ): Lauryn asks: "How many units of botox do you suggest?"
( 35:40 ): Lauryn asks: "Let's talk injectables and lips."
( 40:20 ): Lauryn asks: "How can you tell if you should use restalyne or juveaderm?"
( 42:30 ): Lauryn asks: "Under eye circles with filler what are your thoughts?"
( 44:25 ): Lauryn asks: "What are some dangers to filler?"
( 46:50 ): Lauryn asks: "Are there any trends that you like or dislike right now?"
( 50:00 ): Lauryn asks: "How bad is the sun for your skin?"
( 54:00 ): Lauryn asks: "What do you recommend for protecting your hands and neck?"
( 56:25 ): Michael asks: "What are 3 easy things our audience should start with?"
( 57:45 ): Lauryn asks: "Where can someone go to learn more about all of this skincare?"
( 1:002:05 ): Lauryn asks: "Does the peel work for acne?"
( 1:002:30 ): Lauryn asks: "What can we do for inflammation?"
If you rate the podcast & send a screenshot of your review to asklaur[email protected] you'll get my 5 secret beauty tips!
If you have a question for us or want to request a guest, comment on our Instagrams ( @theskinnyconfidential & @michaelbosstick ) or ask us in TSC Him & Her Podcast Facebook group. Thank you for your attention and support!
+ find more Dr. Dennis: Instagram | Website | Future Face Book
++ This episode is brought to you by Liquid I.V. Liquid I.V. is the great-tasting, portable powder drink mix that is changing the way the world hydrates. The hydration multiplier uses the breakthrough science of Cellular Transport Technology (CTT) to deliver hydration to the bloodstream faster and more efficiently than water alone. Available in Lemon Lime and Acai Berry, Liquid I.V. contains three times the electrolytes of leading sports drinks and is free from preservatives, artificial sweeteners or colors. One stick can provide the same hydration as drinking two to three bottles of water. The benefits of proper hydration include improved athletic performance, fighting jet lag, burning calories, decreased signs of aging, and boosted mental clarity.  Use code SKINNY20 for 20% off at checkout to try this product.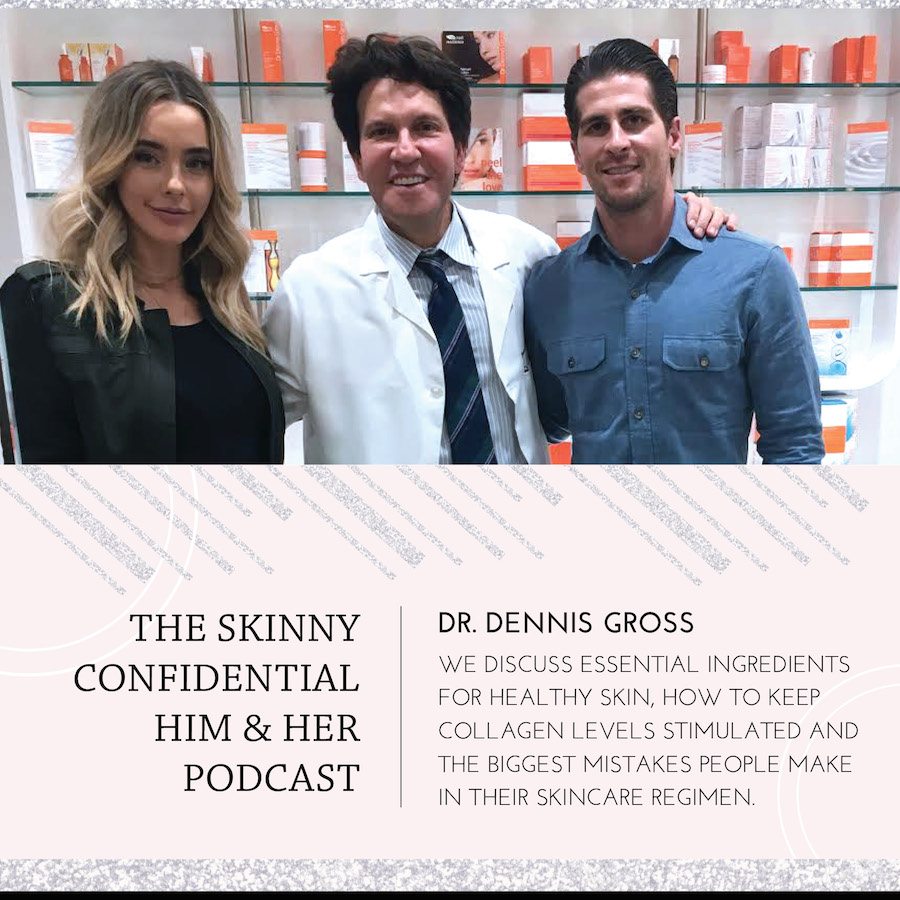 #91: DR. DENNIS GROSS