This week on THE SKINNY CONFIDENTIAL HIM & HER PODCAST...
( 2:00 ): Michael has a radio accent & the heart of an old cowboy. LOL.
( 4:30): We have an extra special guest today. One of our best friends, business partners & badass blogger, Erica Stolman from Fashionlush.
DISCUSSION QUESTIONS WITH ERICA
( 7:45 ): Lauryn asks: "Tell everyone about our childhood & how we met."
( 8:45 ): Michael asks: "You were so nervous to speak at our wedding & it was all people you know. Why was that?"
( 12:20): Lauryn asks: "You started blogging really early. Tell us about that."
( 16:15 ): Michael asks: "What did the blog start as & what has it evolved into?"
( 18:00 ): Michael asks: "Why did you decide to write the post Social Media Killed My Confidence?"
( 27:15 ): Lauryn asks: "Tell us about your phobias & anxiety ( full anxiety story here )."
( 32:50 ): Lauryn asks: "What are some of the choices you have made in your life that have made you who you are?"
( 35:40 ): Lauryn asks: "You work some weird hours. Tell us about that."
( 36:30 ): Lauryn asks: "We started Blog-Doo to help people create their dream blog. We work together as friends. How is that?"
( 40:00 ): Lauryn asks: "How is it living & working together with your boyfriend?"
( 49:55 ): Lauryn asks: "What's the number one thing you love about Zack?"
( 52:40 ): Lauryn asks: "Tell us about the process of running a blog. What are you doing from 8-3 in the morning?"
We hope you enjoyed learning about phobias, anxiety & the business of blogging with Erica! Also the new TSC Detox Meal Plan is launching on Monday. If you're already a TSC Bombshell Body Guide member, you will receive the plan free of charge.
To stay updated, sign up for the exclusive content-filled newsletter & follow @tscbombshellbody on Instagram.
If you rate the podcast & send a screenshot of your review to asklaur[email protected] you'll get my 5 secret beauty tips!
If you have a question for us or want to request a guest, comment on our Instagrams ( @theskinnyconfidential & @michaelbosstick ) or ask us in TSC Him & Her Podcast Facebook group. Thank you for your attention and support!
+ Find Erica: { Fashionlush | Instagram | Snapchat | Blog-Doo }
+ mentioned in this episode: { Wedding video | Many Lives, Many Masters | The Power of When | Bose Comfort Headset }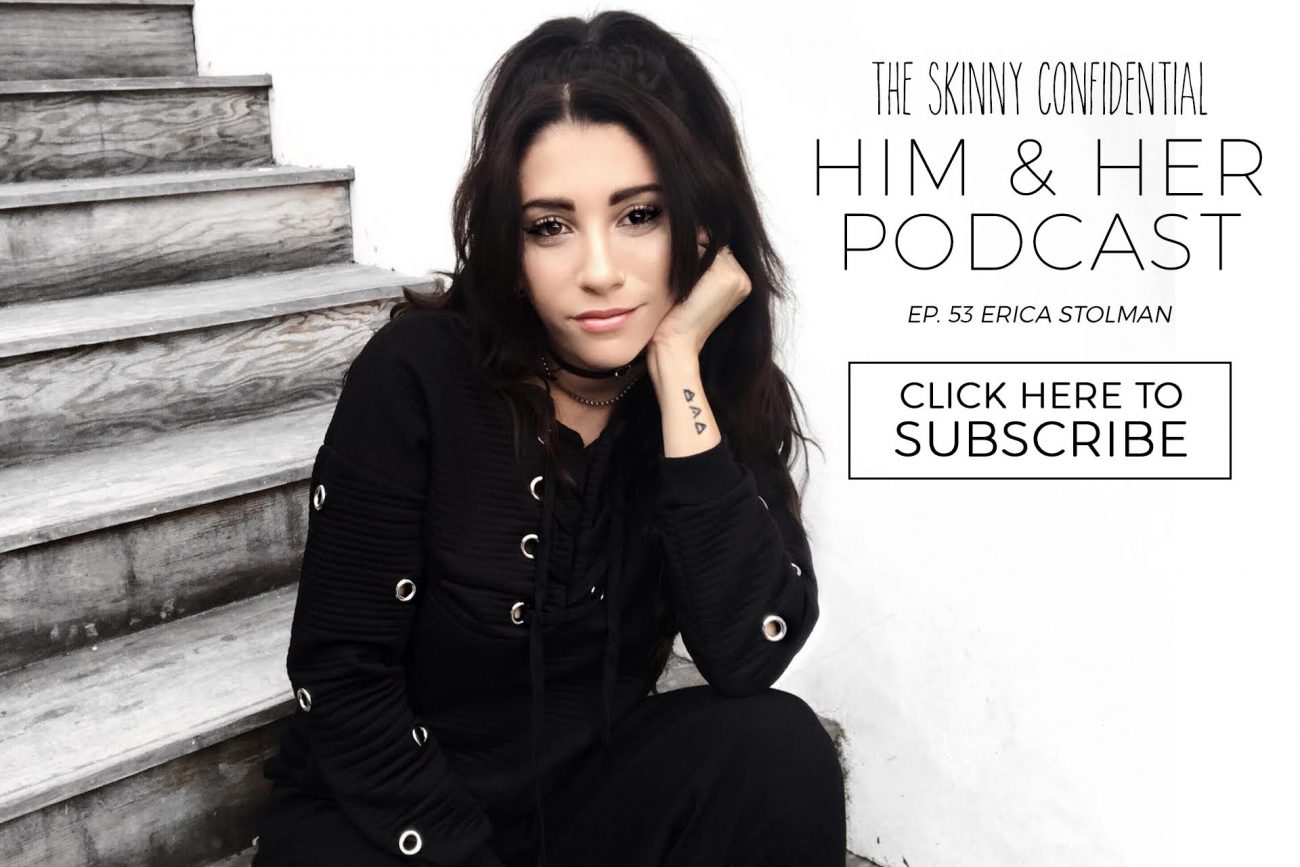 #53: FASHIONLUSH