This week on THE SKINNY CONFIDENTIAL HIM & HER PODCAST…
( 0:25 ): Welcome back to TSC HIM & HER Show.  On this episode we sit down with Rachel Katzman. Rachel is the Founder of Cuvée Beauty which is a hair line using champagne as ingredients. On this show we discuss how to turn an idea into a business. Strategies for growing a new brand. How to scale teams, and what it takes to build a brand from scratch.
DISCUSSION QUESTIONS WITH RACHEL
( 12:30 ): Lauryn asks, "What inspired you to create Cuvée beauty?"
( 17:10 ): Lauryn asks, "What champagne did you start with?"
( 19:33 ): Lauryn asks, "What were the steps to actually make this a product at age 21?"
( 25:40 ): Lauryn asks, "When did Stephen come into the picture?"
( 29:30 ): Lauryn asks, "How do you guys work together?"
( 34:05 ): Lauryn asks, "What's the secret to little sleep and looking fab?"
( 35:05 ): Lauryn asks, "What does a healthy day look like for you?"
( 38:50 ): Lauryn asks, "What are your top 3 skincare products?"
Biologique Recherche toner & moisturizer
Valmont renewing pack
( 43:10 ): Lauryn asks, "What's your morning routine?"
( 50:55 ): Lauryn asks, "How did you build a strong team?"
( 52:25 ): Lauryn asks, "What is a resource you recommend?"
♡ | ♡ | ♡ | ♡ | ♡
FOR A CHANCE TO WIN TSC GOODIES
Comment your favorite part of the episode on my latest IG.
If you rate the podcast & send a screenshot of your review to [email protected] you'll get my 5 secret beauty tips!
Are you interested in receiving a quick email from me? Sign up for Tipsy Thursday to get my favorite tips, tricks and more straight to your inbox.
If you have a question for us or want to request a guest, comment on our Instagrams ( @theskinnyconfidential & @michaelbosstick )  or ask us in TSC Him & Her Podcast Facebook group. Thank you for your attention and support!
x
Lauryn & Michael
+  find more Rachel: Instagram | Cuvée 
++ To receive 20% off your first order of Cuvée Beauty products click HERE and enter promo code SKINNY20.
++ This episode was brought to you by Fabletics. Your new go to for all athletic wear.  Fabletics is offering our listeners an incredible deal you don't want to miss: Get 2 leggings for only $24 a ($99 value) when you sign up for a VIP membership. Just go to Fabletics.com/skinny to take advantage of this deal now. International shipping is available and there is absolutely no commitment when you purchase your first order!  Fabletics.com/skinny Terms and conditions apply.
++ Noom helps you build healthier habits to lose weight. Sign up for a trial today.
STAY BUBBLY FROM HEAD TO TOE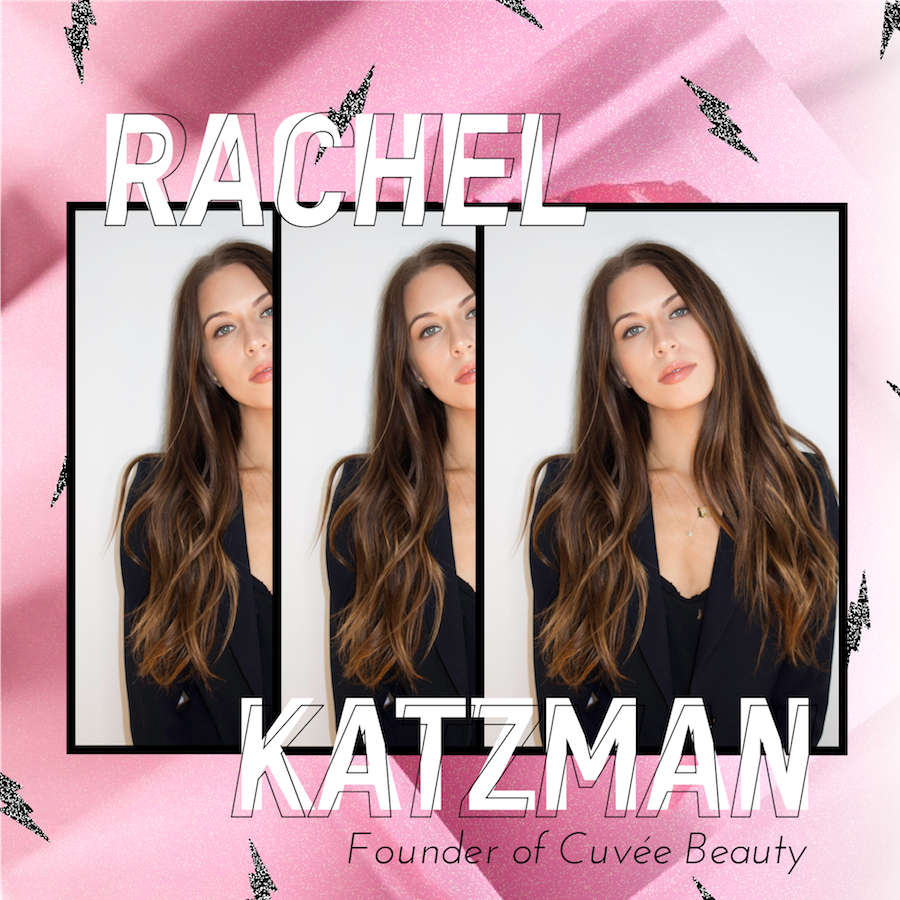 #162: Rachel Katzman – Founder of Cuvée Beauty