This week on THE SKINNY CONFIDENTIAL HIM & HER PODCAST…
( 1:40 ): Welcome back to TSC HIM & HER Show. This week we are joined by fellow podcaster and ultra-athlete Rich Roll. On this episode we discuss the pitfalls of addiction, mental fortitude, conquering fear and more.
( 2:55 ):  We went boating in San Diego this weekend – it might be my new calling. It was a fun, new way to see San Diego.
( 4:30 ):  I have an ask this week. If you feel the podcast has enhanced your life and brought you any value we would be incredibly grateful if you would review the podcast on iTunes.
( 5:25 ): Let's discuss laundry detergent. Lately I've been using Planet. It's biodegradable, not tested on animals, unscented, uncolored and hypoallergenic. Save your skin and try it for free using the link: ThriveMarket.com/skinny.
HIM & HER TIPS OF THE WEEK
( 8:30 ): HER TIP: Boost efficiency and save time with TIME-BATCHING. It helps with focus, eliminates clutter and simplifies your life.
( 11:30 ): HIM TIP: Add in positive things & subtract bad things from your life. This may include habits, nutrition and relationships. . 
( 16:25 ): Today we have Rich Roll on the podcast. This conversation covers a broad range of topics because Rich has an immense amount of experience. Rich has been an athlete his entire life. He graduated from Stanford University and Cornell Law School and started as an entertainment attorney. After battling addiction for over a decade he became sober and started his health journey after climbing some stairs. He is married with 4 children and at 51 leads a vegan diet. He is an ultra-man athlete. Let's welcome Rich!
DISCUSSION QUESTIONS WITH RICH
( 20:30 ): Michael asks: "What is the ultra-man competition?"
( 22:00 ): Lauryn asks: "Walk us through how you go from overweight, addicted lawyer to where you are now?"
( 25:10 ): Michael asks: "What would you tell someone who is starting out and trying to figure it out?"
( 28:25 ): Lauryn asks: "How did you put your blinders on and not give a fuck after this epiphany?" 
( 31:50  ): Michael asks: "How did you navigate the fear that arose?"
( 33:55 ): Lauryn asks: "How did you get into podcasting?"
( 36:30 ): Michael asks: "How does the pain from the past impact your life now?"
( 39:20 ): Lauryn asks: "What advice do you have for a healthy relationship?"
( 41:35 ): Lauryn asks: "Let's talk about your kids – you have 4."
( 45:35 ): Lauryn asks: "What's your morning routine?"
( 46:25 ): Michael asks: "How do you get better sleep?"
( 48:50 ): Lauryn asks: "Can you explain The Morning Pages?"
( 50:45 ): Lauryn asks: "What's your breakfast?"
( 52:00 ): Lauryn asks: "Why did you become vegan and how was the transition?"
( 54:40 ): Michael asks: "How did you get into endurance racing?"
( 58:00 ): Michael asks: "What motivation did you have to start competing at such high levels?"
( 1:00:40 ): Michael asks: "How can someone get motivated now?"
( 1:04:10 ): Lauryn asks: "What is the best advice you've received or recurring themes you've noticed from your interviews?" 
( 1:09:25 ): Lauryn asks: "Tell us about your upcoming cookbook The Plant Powered Way: Italia."
( 1:11:00 ): Lauryn asks: "What podcast episode should we start with?"
Rich Roll Green Smoothie
+ dark leafy greens ( kale, spinach, chard )
+ beet greens & 1/2 a beet
+ berries
+ coconut water
+ superfoods ( chia, flaxseed, maca )
If you rate the podcast & send a screenshot of your review to asklaur[email protected] you'll get my 5 secret beauty tips!
Are you interested in receiving a quick email from me? Sign up for Tipsy Thursday to get my favorite tips, tricks and more straight to your inbox.
If you have a question for us or want to request a guest, comment on our Instagrams ( @theskinnyconfidential & @michaelbosstick )  or ask us in TSC Him & Her Podcast Facebook group. Thank you for your attention and support!
lauryn, x
+  find more Rich: website | Instagram | Twitter | podcast: Susan David episode
++ mentioned: Four Sigmatic Coffee | The Artist's Way

+++ this episode is brought to you by Liquid IV. Liquid IV is changing how you hydrate. It's a hydration multiplier that utilizes CTT to deliver hydration to the bloodstream faster. Receive 15% when you enter SKINNY15 at checkout.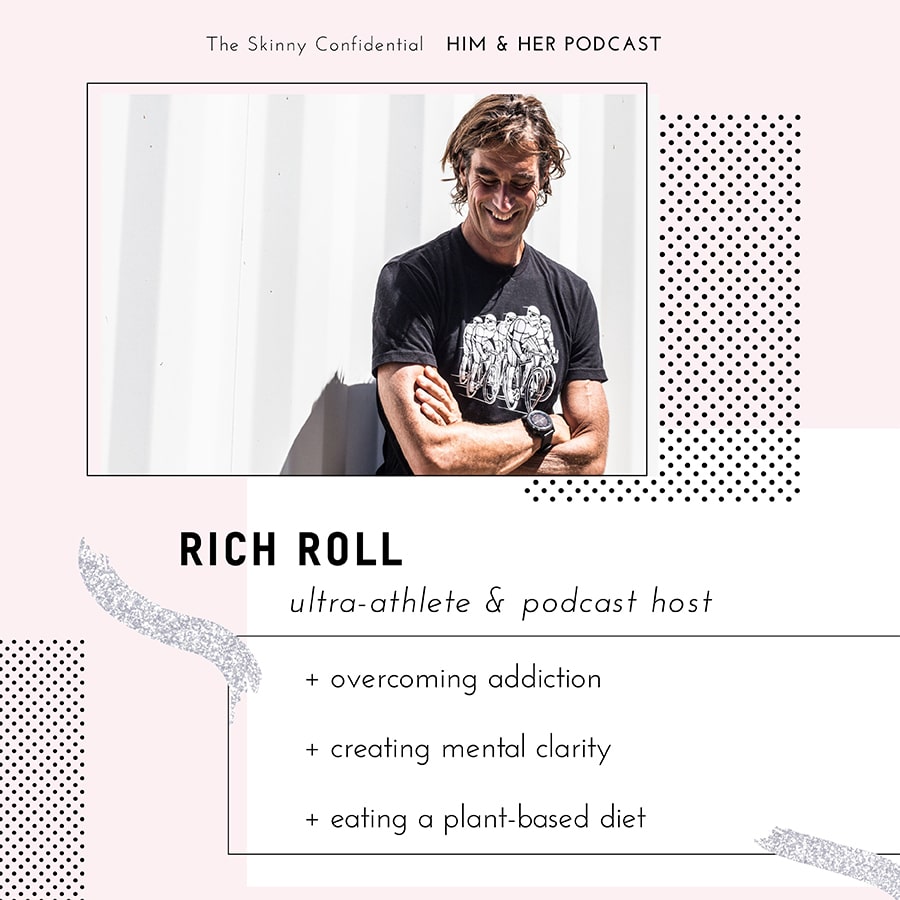 #110: RICH ROLL